Meet alumni who work in research, at the "What's Next?" event
We are proud to invite you to the second in line of an alumni lecture series, on Saturday December 15, organized by students, for students and alumni. With these events we hope to inspire current Media Technology students and bring together alumni.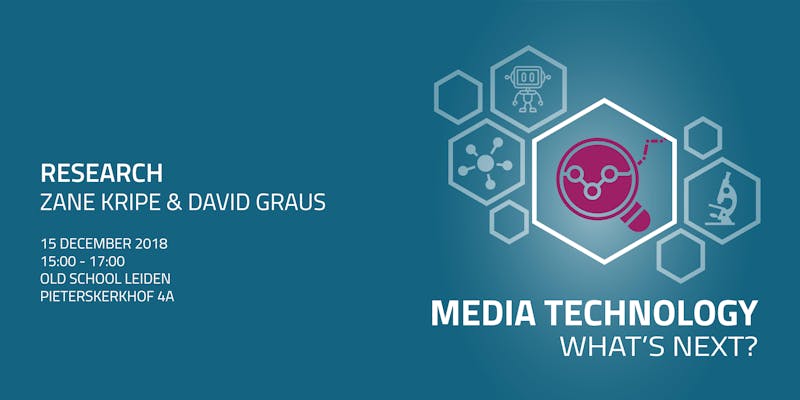 This edition will bring us alumni who work in the field of research and will take place at the venue of the Semester Project exhibition in downtown Leiden.
PhD researcher Zane Kripe will tell us how her Media Technology degree got her to do research into geek culture at hackerspaces and start-up incubators across Southeast Asia, and why she thinks having great colleagues is way more important than having great research proposals.
Data scientist Dr. David Graus applies artificial intelligence to personalize/summarize business and financial news and radio. With his strong opinion on filter bubbles, algorithmic discrimination, and the general fear of AI, this Media Technology alumnus regularly voices his professional thoughts as part of the public debate.
Are you a student?
So you have had an interesting time spent with art, technology and a collaboration of both. Maybe only one semester, maybe four or more. No matter what, undoubtedly you thought at some point "What's next?"... Alumni events group to the rescue! We will provide you with some thought triggering, horizon broadening, synaps stimulating lectures.
Are you an alumnus?
This is your chance to catch up with fellow alumni, and to see what the graduates-to-be are up to. Furthermore, you as a graduate could be an example to students, and therefore your presence is very much appreciated.
Details and (free) registration
See the Eventbrite page.
Organized by students and alumni
Stijn, Arzu, Monica, Jente, MaxG, JoostM, Maral
15 December 2018